YOUR BEST SOLUTION FOR LACROSSE VINYL WINDOWS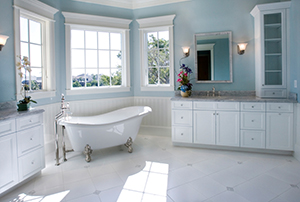 If you are considering replacing your existing windows or boosting the energy-efficiency of your LaCrosse home then vinyl windows are one of the best alternatives available. Vinyl windows conduct significantly less heat than aluminum or steel alternatives, boosting the R-value of your home and saving you on your monthly heating and cooling costs.
The professional window installers at All IN 1 Home Improvements can help you decide on the vinyl windows that are perfect for the needs of your home and ensure that they are installed as effectively as possible. Each window will be installed with a tight fit using only the caulk and sealing necessary to keep as little energy as possible from escaping.
Switching to vinyl windows is one of the best investments that a LaCrosse homeowner will make. Switching to LaCrosse vinyl windows will greatly reduce the amount of energy you use every month, while also helping reduce noise that slips through aluminum and steel windows. Not only will it make your LaCrosse home experience more enjoyable, but vinyl windows can give your resale value the shot in the arm that it needs.
Energy costs in the LaCrosse area have been increasing every year, and the best way to counter this increase is to make certain that your home is conserving as much as possible. The ALL IN 1 Home Improvement window installation contractors can get your new vinyl windows installed quickly and effectively to get you a head-start on these potential savings. You could be reduce your energy costs by around 30% with the right window choice, meaning that your new LaCrosse vinyl windows will pay for themselves in relatively short time.
The Benefit of Our LaCrosse Vinyl Windows
Many Colors Available
Any Style to Fit Your Home
Boost Your Resale Value
Increase Your R-Value
Reduce Energy Costs
Easily Cleanable Windows
Age Resistant Windows
UV and IR Protection
Noise Reduction
Our LaCrosse Window Services Include
Replacement Windows
New Windows
Windows
Energy Efficient Windows
Vinyl Windows
Home Windows
Business Windows
LaCrosse Vinyl Windows
Vinyl Window Installation
Vinyl Replacement Windows
If you are in need of LaCrosse Vinyl Windows call us at 608-397-2871 or complete our online requst form.