Stoddard Home Remodeling and Home Improvement Company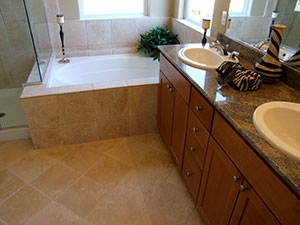 When you're ready to realize the full potential of your home, contact the remodelers at ALL IN 1 Home Improvements! Our professional home improvement contractors have been proudly serving homeowners through out Stoddard for years. We complete all types of home remodeling projects, from painting and roofing, to kitchen and bath renovations.
Stoddard Bathroom Remodeling
Upgrading or flipping? Regardless. When you need help to upgrade, call the contracting company with the know-how and experience. There are major benefits to upgrading an old and outdated bathroom design. You deserve a relaxing and tranquil bathroom retreat, so call us today to receive your bathroom remodeling service estimate.
Stoddard Kitchen Remodeling
How's that tiny kitchen working out for you? How many times do you and your spouse run into one another while cooking or cleaning? If your Stoddard kitchen feels more like a tiny galley than a professional kitchen, call the expert kitchen remodeling contractors at ALL IN 1 Home Improvements help you design a new kitchen. We'll help you build a kitchen where you can cook, entertain, and most importantly, relax. You and your family deserve to have a beautiful kitchen.
Stoddard Home Repairs
Home repairs can be difficult, time consuming and costly. This is especially true if you have no idea as to what you're doing except what the DIY page on the internet told you what to do. The design options when building a home addition for your Stoddard home are practically endless. Let our home repairs contractor show you how you can go from a single story build to a two story home. Need a game room? We can do that. We can do just about anything you can dream of. Call today for a free quote.
Customer Reviews
ALL IN 1 Home Improvements is Rated: 5 / 5
based on these 1 happy customer reviews.
---
"I have had Brad do several projects for me: built a storage room out of 2 small unfinished closets, replaced a bathroom exhaust fan and vented it to the outside, installed a sump pump, insulated my attic and crawlspace and several other little jobs. He was friendly, fast, and did a good job. He even came in under budget on my insulation."
---
If you are looking for a Stoddard Remodeling Contractor, please call 608-397-2871 or complete our online request form.
Recents Articles
Granite Countertops For Kitchen Remodeling - Still A Great Choice!

Remodeling the kitchen is one home improvement idea that is worth giving some thought to. One of the first things you'll think about when planning such a project are the kitchen countertops. Granite is a classic favorite material for countertops in both the kitchen and bathrooms. It's so diverse that you can find unending designs...

Read More
Rooms With All The Trimmings

Just as a necktie establishes the style of a man's suit, trim work often makes the most definitive statement about the style of a home. Simply put, very often the trim in a room speaks volumes. Very often those trimmings are constructed from medium-density fiberboard (MDF) because architects are finding this material has the inherent ability...

Read More