Need a Professional LaCrosse Drywall & Plaster Contractor?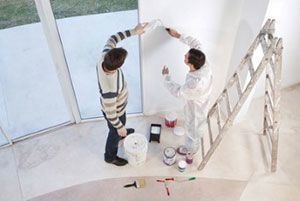 We all have them – beat up and scary walls. But just because we have ugly walls doesn't mean we have to live with them anymore, thanks to ALL IN 1 Home Improvements. Our drywall and plaster repair contractors know just how to repair your drywall. When you can't tell where the original hole was in the wall, that's the company you want to hire. That's ALL IN 1.
Since the walls in your home and office plays a huge role in any rooms appearance, let our skilled staff come and fix and patch any trouble spot. Our skilled drywall contractors have the know how to repair drywall and replace the drywall that's too far gone in your home. As you may already know, the quality of the paint is strongly relied on the quality of the craftsmanship of the drywall installation. Any drywall repair should be completed before any paint is applied. If the painter painted the walls too soon he will soon realized the mud on the joints may be too wet or the evenness around the joints are not level. The devil is in the details. All of the flaws will be visible when painted if the drywall was not done correctly. At ALL IN 1, we make sure that there are no more flaws in the walls. Call us today!
If you are looking for a LaCrosse Drywall & Plaster Remodeling Contractor, please call 608-397-2871 or complete our online request form.