Everything You Need To Know About LaCrosse Vinyl Siding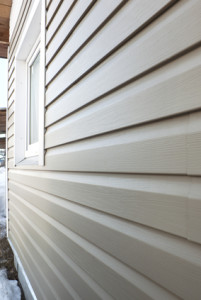 When you are building a new home, or remodeling an old house, you need to make sure that your house has a proper siding to ensure that your walls are well protected. The siding of your home needs to be long lasting and weatherproof, but still look stunning from the curb. Installing the correct type of siding can make or break the entire appearance of your home.
One of the most popular types of siding for a home is LaCrosse vinyl siding.
What is Vinyl Siding?
Vinyl siding is one of the most popular styles of siding in America.  It is a great compliment to any style of home, and it works in almost all types of climates. Vinyl siding is a plastic exterior siding used for decorating and weatherproofing the outside of your home. It is an engineered product, manufactured from polyvinyl chloride, or PVC.
When Should I Install Vinyl Siding?
Are you tired of the same old brick houses?
Do you hate the look of stucco?
Do you want to have a superior siding that requires little maintenance?
These are all great reasons to install vinyl siding on your home. Vinyl siding can be a strong, durable product that is easily cleaned and maintained. There are several benefits to using vinyl siding on your home.  One of those benefits includes a wide variety of color choices.
With hundreds of colors to choose from, it is easy for homeowners to personalize their homes. Different trim colors can be added to compliment the color of siding you choose. Vinyl siding can make your home the most stylish house in your neighborhood.
Can I Install Vinyl Siding On My Current Home?
If you already have a particular type of siding such as brick or stucco, siding replacement is still an option for you. You can have a professional install vinyl siding on your home. If you have grown tired of the current siding on your home, or perhaps another contractor installed it incorrectly, a professional siding contractor can help.  Changing the siding of your LaCrosse home is a great way to improve the look and feel of your house.
Benefits of Vinyl Siding
There are several different benefits to installing vinyl siding on your home. Not only will this siding make your home look great, but it will also be an affordable option. Here are some of the greatest benefits to installing vinyl siding on your home:
The cost of installing vinyl siding is cheaper than most other siding options.
Vinyl siding is low in maintenance.
Vinyl siding is easily cleaned and painted.
Vinyl siding is made out of a strong, durable material.
If you are looking for a LaCrosse Vinyl Siding Installation Company, please call 608-397-2871 or complete our online request form.