Kitchen Remodeling – Importance of Being Ernest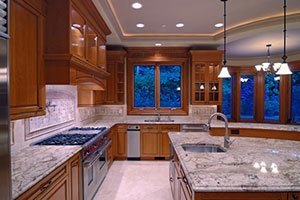 One of the more enjoyable home renovation projects to take on is the kitchen remodeling job. There are so many great reasons to renovate your kitchen like:
Upgrading and updating and stop living in the past

Finally getting the island kitchen you always wanted

Revamping this room so it is finally functional and not just cute

Just making it more personalized to your taste and style

And that's just to name a few
Every day we hear different reasons why families around the West Salem, WI area want us to give them a new kitchen. With all of the experience we have had we know what it takes to help do this for any home, no matter how big or small. But realize not every renovations company can say that.
Importance of Being Ernest
By definition, ernest means to be serious in intention. At ALL IN 1 Home Improvements we are committed to remodeling jobs and improving your home. But not every company out there can really make this claim. Our goal is to help you create the look you always wanted.
The process for any remodeling job should include walking the client through every step of the process. This helps you to understand what your options are and helping you make decisions based on your wants, needs and budget restraints. Some people already have a clear cut idea in their head of what they want their kitchen to look like after it's all said and done; other people haven't got a clue and we like to help both.
About Our Team
Since 1999 the crew here at ALL IN 1 Home Improvements has been taking care of the homes of local community members. We offer services like:
Drywall & plaster

Cleaning & treatment

Gutters

Roofing

Decks & fences

Laminate flooring

Commercial remodeling

And so much more
We treat each unique client like the individual they are. Which also means understanding everyone's individual needs. We are family owned and operated and consider ourselves part of the community. So when we take on a new project we are working for our own neighbors, friends and fellow community members.
This means we are dedicated to doing the best job possible no matter what it takes. Let our licensed and insured pros get the job done for you. We can help design and create whatever project you have in mind.
For your next kitchen remodeling project let the professional team of experts at ALL IN 1 Home Improvements do what we do best, for your home.
If you are looking for a LaCrosse Remodeling Contractor, please call 608-397-2871 or complete our online request form.