Flooring Options For Kitchen Remodeling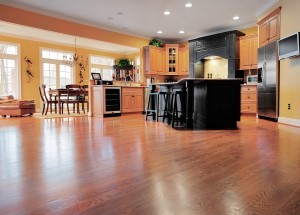 As LacCrosse area flooring specialists, our Kitchen Remodeling contractors at All In 1 Home Improvement install many floors throughout the years for residential rental property owners, including great new floors for Kitchen Remodeling.
If you're a real estate investors that owns residential properties for rent, you understand exactly what we mean when we say your tenants are going to be hard on your floors. That means they need to be very durable and easy to repair and eventually replace.
The problem we've seen most often is when property owners choose a flooring material that won't stand up well to abuse for Kitchen Remodeling. While it's cheap to lay and fast to install, products like the old sheet vinyl and standard carpeting will degrade or get damaged the fastest and simply don't last.
That means that within three to five years, you could have to re-floor the entire kitchen or home if you don't want the property to sink in value, while in the mean time the floor continues to easily get damaged or stained.
Lower value means lower rents, so you want to be sure your Kitchen Remodeling is handled right with durable flooring. And trust us when we say that the shape of the floor does matter to your tenants, even if they're willing to put up for it because of the lowered rent fee.
Instead of making that first bad selection, choose something more durable and you'll have better quality tenants, better rent prices, and a more attractive rental home that brings new tenants fast.
Natural Stone Floor probably not ideal for rental homes due to high cost
Carpeting fine but not ideal, great for bedrooms if high quality
Tile perfect for rental homes
Composite makes the flooring materials more durable
Wood real wood is expensive, better options for rental homes are faux wood composites
Two of the flooring types recommended for durability as well as being economically priced for the value are the tile floor and today's options in composite laminates or high quality vinyl.
These options come in a wide array of textures, colors, and styles, and can mimic other materials like real wood or stone. The install differently than they used to, offering even better quality and even faster installations.
As lower cost options, yet not bottom rung low, these Kitchen Remodeling Flooring materials are proven to perform well under abuse. This makes them viable options in flooring for rental homes where tenants don't always care for or respect the building materials of the home.
When you're looking for the right floor for the Kitchen Remodeling project, be sure you're not dulling out the color scheme to where all the walls, flooring, and other features of the home blend in altogether. There are many styles and colors for you to choose from, and they can even be laid out in a framed design or in some other custom way to make the home stand out.
If you are looking for a LaCrosse Kitchen Remodeling Contractor, please call 608-397-2871 or complete our online request form.