Granite Countertops For Kitchen Remodeling – Still A Great Choice!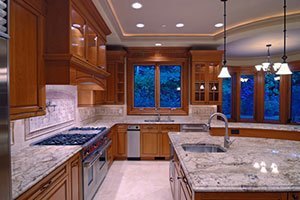 Remodeling the kitchen is one home improvement idea that is worth giving some thought to. One of the first things you'll think about when planning such a project are the kitchen countertops. Granite is a classic favorite material for countertops in both the kitchen and bathrooms. It's so diverse that you can find unending designs in the grain patterns and colors. Our La Crosse Remodeling experts at All in 1 Home Improvements wanted to share a little information about granite countertops that you may find interesting.
Options In Granite Countertop Styles
Granite can be installed in slab form or in tile form. Granite countertop tile will be grouted while a slab would consist of one solid piece of granite to cover the length of one countertop.
When it comes to granite styles, the options are pretty much wide open because every piece of granite has a completely unique pattern. You can choose various colors from light to dark with many different grain patterns.
How Granite Forms & Why It's So Hard But Not Impervious
Each piece is so unique because granite is formed by heat and pressure from the earth. Within granite, you'll find the minerals feldspar, quartz, mica, and amphibole with each looking different after having been heated and pressed into granite form. Granite forms in massive mountains. When it is quarried from the ground, it is extremely hard and tough. This is why it's a great material for kitchen remodeling.
It is cut and shipped to companies here in La Crosse and other cities that cut and shape it into countertops and other things as ordered by the carpenter or builder. After cutting, it is polished. Since granite polishes to a high gloss, many think the material is impervious, but it can take on stains. Therefore, granite should be sealed against moisture after installation so the surface doesn't become stained from spills, but the material itself is extremely tough and dense.
There is some debate out there, but you can set a hot pot directly from the stove onto the granite. However, just like with many extremely hard materials, if you heat up the granite in this way, be careful not to apply anything cold on it afterward or it could crack. The application of very hot temperatures followed by cold can cause cracks in just about any solid material.
Custom Granite Countertops
Your granite countertop can be cut with different edge styles to go with the architecture in your home. Straight edge cuts are the most popular because they give the more modern flair to your kitchen design. They also go well with other styles.
Another favorite edge style is rough-hewn. The edge is manipulated with a chisel to appear as if the granite countertop were chiseled out of a larger piece. This is a wonderful rustic looking edge that goes great in many design styles.
Other Custom Granite Countertop Edges:
 Waterfall
 Bullnose
 Double Bullnose
 1/4 Round
 Dupont
 Half Ogee
 and more
Any way you look at it, customized or not, granite countertops will always be a great choice as kitchen countertops. It's a material that will probably outlive the rest of the home and will stay beautiful and durable if the seal is redone as needed. Call ALL IN 1 Home Improvements today!
If you would like to learn more about Granite Countertops For Kitchen Makeovers in La Crosse, please call All in 1 Home Improvements at 608-397-2871 or complete our online request form.