Bathroom Remodeling Tips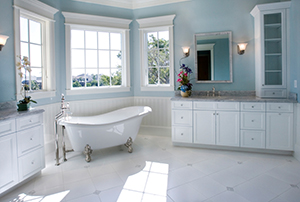 You may think that it's the end of the world whenever it comes to the condition of your bathroom, but there's good news, it isn't. You might be surprised to find that there are little tips that make a big difference when it comes to bathroom remodeling in your home.
One of the simplest things that you can have done to the bathroom is increasing the size of the mirror. You may not think much about this, but a bigger mirror will give a smaller bathroom a much larger feeling to it.
Paint is also an inexpensive way to brighten up the look of a bathroom. You can enhance the room by going with a lighter color which opens the room up. Color, for a bathroom, lightens moods and positive behavior.
The next ingredient that you may want to throw in the mix, when it comes to your renovation in LaCrosse, is a freestanding sink. A freestanding sink will help open up more space and provide you with the room you need to get ready for a night out on the town and even for work.
You'll find the following benefits to having your bathroom renovated:
Better organization
Open space
Cleaner looking
When it comes to pricing a bathroom renovation; there are lots of ways to ensure that you won't get ripped off. You can start by finding a good contractor. There are lots of contractors in Wisconsin that are ready and willing to take your money.
Ways of finding a good contractor:
Look for experience
Ask for referrals
Get several estimates
Experience is everything when it comes to finding a contractor. You wouldn't go to a dentist that has no experience so why would you hire someone to remodel your home without any experience? Experience helps to see that a job is done to your specifications and thoroughly.
Referrals are good to have. You can ask the contractor themselves or ask around the office or your neighborhood. Word of mouth spreads rather quickly. You can always go into the BBB website and check on a contractor for complaints.
It may be a pain in the neck but having several contractors come out to bid on a job makes it easier in the sorting process. And remember, just because some may come in a lot cheaper than the others don't mean they are the best. Get at least 3-4 estimates.
If you are looking for a LaCrosse Remodeling Contractor, please call 608-397-2871 or complete our online request form.