Are You Seeking Bathroom Design in LaCrosse, WI?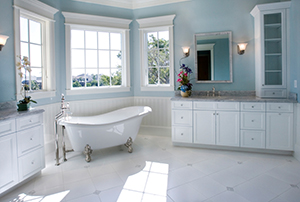 Are you in the process of getting your bathroom done, but are in need of a LaCrosse bathroom design? If you are, then you're going to have to call the remodeling experts at All in 1 Home Improvements. Our guys can take your ordinary bathroom and create a remarkable one in no time at all. Since 1999, we have been the area's choice for remodels.
Bathroom designs can come in all shapes and sizes. If you want a shower to replace your old tub, then arrangements can be made. We can design whatever it is that you need in order to perfect your bathroom.
Make the call to All in 1 Home Improvements and your bathroom will look as though it came straight out of a palace. We can decorate it with modernizations that will really enhance the look. Don't just settle for what you think you have to. Go with a bathroom that you'll be proud of.
We don't just do remodels by adding some paint to your walls. We make dreams come true. If you like the look of a particular bathroom style, then alert our designers. Our design team can make your dreams come to life.
Don't settle for a LaCrosse bathroom design that you're going to despise in a year. Go with one that will be with you your whole life. That's why you need the experts at All in 1 Home Improvements. Our crew has the experience to get the job done.
We arrive to your home, our job site, very early with a positive mindset. Our guys actually care about the jobs they do and want everything to look as perfect as possible. So when picking out a contractor that you can always trust most, call the ones at All in 1 Home Improvements.
Bathroom flooring is a very great way to increase the look of your bathroom. Take concrete flooring for example. It's a great alternative to traditional bathroom flooring and provides a consistent feel throughout the room.
Tiles are yet another way that your bathroom can take a whole new look on. Don't think for a moment that this tile is traditional at all. Pebble Stone tiles make for awesome flooring. If you're looking for a touch of class for your floors, then remember Pebble Stone.
Now vanities are yet another thing that we can get design as part of your bathroom remodel. Bathroom vanities are and do make for really great additions to your bathroom. Take your pick between single or double vanities. That is if you feel like sharing the sink with your husband.
Whatever LaCrosse bathroom design that you're going for we can design it. You don't have to give up on your bathroom as long as we're around.  
Recent Articles
Granite Countertops For Kitchen Remodeling - Still A Great Choice!

Remodeling the kitchen is one home improvement idea that is worth giving some thought to. One of the first things you'll think about when planning such a project are the kitchen countertops. Granite is a classic favorite material for countertops in both the kitchen and bathrooms. It's so diverse that you can find unending designs...

Read More
3 Summer Remodeling Projects Guaranteed To Boost Your Home's Value

With summer finally upon us, many homeowners are taking advantage of the warmer weather to make improvements around their homes. With so many potential projects to tackle, however, it can be difficult at times to know which ones are the right ones to go ahead and schedule, and which ones are best left until later....

Read More
If you are looking for a LaCrosse Bathroom Design Contractor, please call 608-397-2871 or complete our online request form.