Holmen Home Remodeling Contractor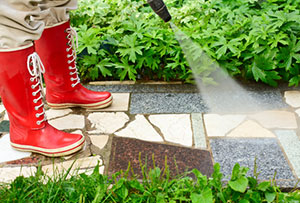 Could a fresh coat of paint fresh up your house? Sometimes, it the little things like that can make a huge difference to the overall feel of your home. ALL IN 1 Home Improvements has highly qualified home remodeling contractors to handle the simple things like removing and adding new flooring to something more complex like adding square footage to your home. At ALL IN 1 Home Improvements, we've got what the experience and know-how to remodel your Holmen home affordably and efficiently! Call us today to find out how we can help you upgrade your home.
Holmen Bathroom Remodeling
When you've been settled in your Holmen home for several years, you can start to see the flaws in the design you once loved. Consider this: Have ALL IN 1 update your bathroom design to make your home feel new again. The certified bathroom remodeling specialists we employee are simply the best and enjoy helping you select a design and building materials that are perfect for your family's needs and personal style.
Holmen Kitchen Remodeling
If your Holmen kitchen is a bit tight, maybe think about a complete kitchen makeover. Once you've given some thought about the layout you'd like, give us a call and we'll work with you to develop a kitchen layout that's within your budget. Floors? Yep. Counters? Yep. State-of-the-art appliances? Oh yeah.
Holmen Home Repairs
At ALL IN 1 Home Improvements, we know that sometimes, one room simply will not fix the problem. Sometimes, only a complete house remodeling will do  for your Holmen home. It doesn't matter if it a major structural change to the tiniest detail, our professional home remodelers can and will do it all. We can add a closet, a room or, if you need it, a second story. And don't worry, we'll walk you through the entire process, from design and planning, to construction and completion, to ensure that you are completely happy with the final result.
Customer Reviews
ALL IN 1 Home Improvements is Rated: 5 / 5
based on these 1 happy customer reviews.
---
"Brad at All in 1 is excellent to work with. He listens well to make sure he meets your needs. Last summer he completely prepared our cedar-sided home and stained it a timely manner. He also helped us remove and replace our deck. For both projects, he recommended a more expensive stain that helps protect our wood and keep the woodpeckers away! We have been extremely happy with the look and results & are glad we spent the extra money. This year we called him back to give us estimates on several projects that we are updating on our house. He quickly responds and gives honest information; he also told us that we would probably save money on some of the projects if we went with other specialized businesses – we appreciated that and took his advice for a few projects. We hired him to replace and paint our front door and update our bathroom cabinet. Both were done efficiently and look wonderful. Our old cabinet looks brand new and it saved us several hundred dollars. Brad is on-site and carefully monitors the work that is being done by his employees. We also very much appreciated how he and his crew clean up when they have completed the projects – we didn't have to do anything. He also guarantee's his work and will respond immediately if you have a question or need something done. We have recommended Brad to many of our friends who have also been very happy with the work that he has done in their kitchen and house staining. Brad and his workers are extremely dependable and respond quickly. They also work very quickly to complete your projects. We will definitely use All in 1 in the future and are happy to recommend his work."
---
If you are looking for a Holmen Remodeling Contractor, please call 608-397-2871 or complete our online request form.
Recents Articles
How to Choose Replacement Windows

One of the most basic methods of home improvement is through the installation of replacement windows. No matter how insignificant they may seem, windows are actually capable of putting a whole new "feel" to the home. It can make a house look gloomy or sunny depending on the design and make chosen by the homeowner....

Read More
Granite Countertops For Kitchen Remodeling - Still A Great Choice!

Remodeling the kitchen is one home improvement idea that is worth giving some thought to. One of the first things you'll think about when planning such a project are the kitchen countertops. Granite is a classic favorite material for countertops in both the kitchen and bathrooms. It's so diverse that you can find unending designs...

Read More