LaCrosse Deck Cleaning & Deck Treatment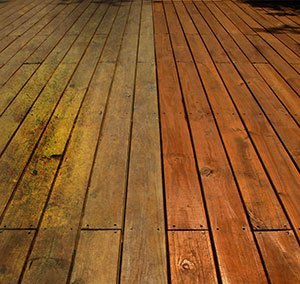 If you're like so many LaCrosse residents, you've invested time, money and effort into a professionally built deck, patio or some other fine wood structure that has become the centerpiece of your backyard. But now, you've noticed it doesn't look like it did when it was built. ALL IN 1 Home Improvements is here for you. We understand the importance of proper deck cleaning and maintenance.
When it comes to Deck Cleaning, could you purchase your own water pressure unit and do it yourself? Sure. It may look like an easy task but it is far from being so, especially if you're not sure of how to clean it and what to clean it with. Different materials receive different treatments, so it doesn't make good sense to charge head first into a project without the proper knowledge. Turn to professional LaCrosse Deck Cleaning Contractors like us here at ALL IN 1 Home Improvements.
We've seen it time and time again – over-application of the coating on a wood finishing project. Many DIY weekend warriors have fallen into the misnomer that "more is better". Don't fall victim to that. Call the professional deck 
treatment contractors who know just how much to lay, how to lay and when to lay the wood protectant.
If you are looking for our LaCrosse Cleaning & treatment services, please call 608-397-2871 or complete our online request form.