Searching for Bathroom Vanities in LaCrosse, WI?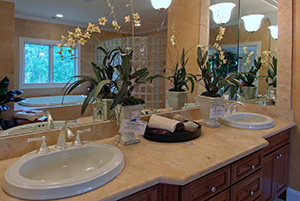 If the only thing that's missing from your remodel is a LaCrosse bathroom vanity, then you should contact All in 1 Home Improvements. For many years now, we have been creating smiles with our remodels. If you want a bathroom vanity that will last the duration of your bathroom, then please call on the remodeling experts. 
Normally vanities come in many different styles, but they do come in solo & double sink basins. That means you have a tough decision to make. If you and your significant other are always arguing over who gets to use the bathroom first, then you should look into getting a double sink. 
But, there is nothing wrong with solo vanities either. The way manufacturers are making them these days they are durable and meant to last. If you want style, then call on us and we'll deliver it to you because style is something that we take pride in when it comes to your bathroom. 
There aren't too many options when it comes to vanity tops. But, when you have the right top you'll know because it will just fit into place. The vanity top is considered to be one of the most vital pieces to your vanity. 
Some popular choices for bathroom vanity tops come in marble, granite and ceramic. All of these are excellent materials, but you have to make the decision as to what material would look right in your bathroom. 
A LaCrosse bathroom vanity can provide your room with a look like no other. If you've only had a traditional bathroom sink in your bathroom before, then get ready to have your mind blown. You're going to love your bathroom vanity as most homeowners do. 
Remember, the very first thing that your guests are going to see when they visit your bathroom is the vanity top. If you take pride in your bathroom, then you'll go with a quality bathroom vanity top from All in 1 Home Improvements. 
The three major types of vanity tops: cultured marble, tempered glass and solid porcelain all have their own certain characteristics. Glass has a unique look and is resistant to heat. Glass is highly hygienic and will not foster bacteria. 
Porcelain, on the other hand, gives a more modern look to your bathroom. The smooth surfaces do not need much maintenance and the porcelain itself can hardly be chipped or melted in high temperatures. Call us for more details today.
Marble has many advantages. Marble is one of the most sought after types of bathroom vanity tops. It's because of the classy look it displays. Marble vanity tops are also one of the more less expensive tops you can get for your bathroom. 
See how All in 1 Home Improvements can benefit your bathroom. You'll learn that we are the LaCrosse bathroom vanity experts.
Recent Articles
Basic Guide to Energy Efficient Replacement Windows

In this day and age of high energy prices, any change that you can make to your home that increases its energy efficiency is an absolute plus. If you have been considering conducting a remodeling project, you should think about replacing your current windows with energy efficient options. A replacement window project can be fantastically...

Read More
Rooms With All The Trimmings

Just as a necktie establishes the style of a man's suit, trim work often makes the most definitive statement about the style of a home. Simply put, very often the trim in a room speaks volumes. Very often those trimmings are constructed from medium-density fiberboard (MDF) because architects are finding this material has the inherent ability...

Read More
If you are looking for a LaCrosse Bathroom Custom Vanities Contractor, please call 608-397-2871 or complete our online request form.