Is Your Home in Need of Bathroom Tiles in LaCrosse, WI?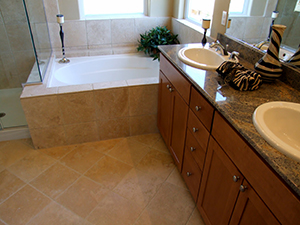 If you are in the process of remodeling your bathroom and you're thinking about how to decorate your walls, then consider LaCrosse bathroom tile. They are the best and easiest way to make your bathroom look more unique. All in 1 Home Improvements wants to be the ones who gives your bathroom the upgrade it needs. 
Bathroom tiles come in many different shapes, sizes and forms. You can practically do anything with them as far as design goes. If you think that it's difficult to bring function to a bathroom, then you may want to think again. 
Many bathrooms in the 1950s and 1960s used tile as a décor, but not only did they look great, for that time period, but they also were very functional. Bathroom tiles are great for homeowners who don't want to put a lot of maintenance into their bathroom.
Bathroom tiles can be cleaned using only a moist washrag and a non-abrasive cleaning solvent. You can use bleach or some other type of industrial cleaner as they will not become damaged. Call All in 1 Home Improvements today for an estimate on your new tiled bathroom. 
When you see your new LaCrosse bathroom tile you're going to appreciate your bathroom that much more. Your bathroom will no longer be an abused room in the house. We'll alleviate the stress by delivering you quality materials.
Smaller bathrooms are lot more challenging to renovate with tile because you only have so much room to work with. We can tile between the molding for an effect that most bathrooms don't have. We'll lay small tiles, color of your choice, between the wood. 
For a more exotic look, we can install natural colors such as light browns up and down your walls. These bathroom tiles will make it seem like your bathroom should be in a tropical island resort. Reach out to our designers today.
A more updated appeal to your shower should be large tiles that surround the shower. Our remodeling team will use light floor tiles, then combine them with darker ones that will dance up & down your bathroom walls. 
There are many solutions for tile work in your bathroom. If you want a particular look, then just ask. Our goal is to please you any way that we can. We can easily do this through our bathroom remodeling. For over 15 years now we have been making our customers happy one bathroom tile at a time.
So when  your bathroom is not what it used to be, then take the next step and have it tiled by the pros. We have the missing piece to your puzzle. If you want quality work done, then we're the ones who can bring you it. 
LaCrosse bathroom tile can and will make your bathroom stand out from all others. If you're tired of the look of your current bathroom, then give us a call. 
Recent Articles
The World Of Kitchen Cabinets

Perhaps the most prominent feature of any kitchen would be the cabinets. They occupy a significant portion of the kitchen area and are the ones that people would usually first notice when entering the room. Among all other components of the kitchen, cabinets are the ones that carry a kitchen's personality the most. Not even the...

Read More
Everything You Need To Know About LaCrosse Vinyl Siding

When you are building a new home, or remodeling an old house, you need to make sure that your house has a proper siding to ensure that your walls are well protected. The siding of your home needs to be long lasting and weatherproof, but still look stunning from the curb. Installing the correct type...

Read More
If you are looking for a LaCrosse Bathroom Tiles Contractor, please call 608-397-2871 or complete our online request form.